UNITEX LT60H USB LTO 6 tape drive
REPLACED BY LT70H2, Click for more details.
_____________END______________________________

LT60H High Speed USB3.0 LTO tape drive
Watch Video about this product
***For more details about the software see video links below. They are short & very helpful****
TFS3000 Demonstration(Bundled software)
https://www.youtube.com/watch?v=CATboA1vfzE

FASTapeLT Demonstration(Data Copy Software)
https://www.youtube.com/watch?v=juPeh8SgfWo

ArchiveLT Demonstration(Archiving Management Software)
https://www.youtube.com/watch?v=aZPzWRV2T6M
Model: LT60H USB
Drive Type: LTO Ultrium6
Interface: USB3.0
Native data transfer (Max):  USB3.0: 240MB/sec
OS Support :
Windows 8.1 (x64), Windows 10 (Ver.1607 or later) (X64),
Windows Server 2012 R2 (x64), Windows Server 2016 (x64)
OS X 10.11 (64bit), macOS 10.12 (64bit), macOS 10.14 (64bit), macOS 10.15
(64bit)
Dimensions: (mm) 213(W) x 370(D) x 58(H) mm *1
Power Supply: AC100~240V ±10%, 50/60Hz
Power Consumption: 65VA
Weight: 4.5kg
Operating Environment Temperature: 10~40 degrees Humidity 20%~80% (No
condensation)
Kit Contents: LTO Tape Drive / USB3.0 cable / Cleaning Cartridge / User
Guide (English) / UNITEX LTFS3000 software (English)

*1 Only a main body excluding protrusion.
* Please note that the setting of secure boot on the computer needs to be
disable.
* macOS 10.13 is supported only with SAS connection.
_________
USB/SAS hybrid model is switchable between USB 3.0 and SAS interface according to the usage
USB cable clamp prevents unexpected cable disconnection
USB plug-and-play connection enables connection and disconnection without stopping the server, making sharing and maintenance work easy on multiple servers
Equipped with the latest USB board
Support Windows, Mac and Linux
Support the world's leading products of backup software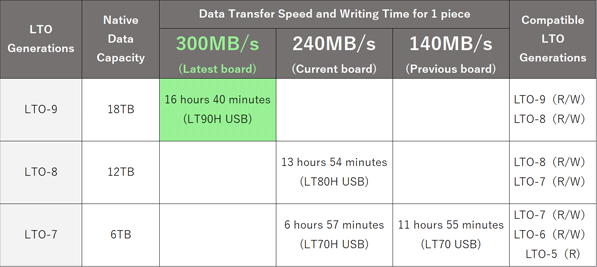 Where do we ship?
To all 50  States.
We ship to APO/FPO Military addresses also
International Shipments
We ship internationally to wherever UPS, FEDEX and DHL delivers.
Free shipment
We offer Free Ground Shipping to the 48 continental US States on orders over $500.

Applicable to ground shipping within Continental U.S.
Same Day Shipping
Our dedicated staff ships most orders the same day, unless the order is placed after 4 pm PST OR it is out–of-stock.
For priority mail, orders must be placed by 2:00pm PST
Not every product can be shipped on the same day, as they might require special packaging.
Next Business Day Shipping
Orders placed on national holiday/weekend will be shipped on the following business day.
Most of the products are shipped from our San Ramon, CA warehouse. In addition, we have 6 other regional warehouses located across the contiguous states. Products would be shipped from your nearest warehouse.
We ensure that all customer orders are safely delivered within the shortest time frame. However, there are rare chances that you may receive multiple packages as they would be delivered from different locations.
Shipping Couriers
FedEx, UPS, DHL and USPS.
Customers can also provide us theirFedEx/UPS account for " Freight Collect"
You can also request a specific carrier. Please make sure that you mention it in the section of "special instruction". Our efficient staff will do its best to fulfill your specific demands.
Substitute Courier Service
The company has the right to ship the order through any other carrier service that we think will be a better choice.
Shipment cost
The total cost can be viewed before placing the order, and it depends on
The location
Size and weight
Shipping method
Ground Standard
UPS or FEDEX ground is a low-cost, fast and reliable option for all routine shipments in the contiguous states.
Ground Shipments generally take 2 to 5 business days to deliver.
USPS Priority Mail
Economical choice for small quantities of light-weight items, especially the backup tapes.
Reaches anywhere in contiguous states within 2-4 business days.
Good news is that there is no extra charges for Saturday deliveries.
Saturday Delivery
No normal delivery services from FedEx and UPS on holidays/weekends.
Customers requiring urgent deliveries on these days can make a phone call and our staff would help fulfill their request.
Next Business Day Delivery
FedEx and UPS provide fastest delivery to all 50 states. The goods generally reach all addresses by 10:30am, noon, or the end of day.
Second and Third Business Day
Two & three days delivery is available through UPS & FEDEX
Top Reasons To Use Tape Vs Cloud Backup 
Store large amounts of data 
Long-term data preservation 
Ransomware resiliency 
Greater ROI vs. the public cloud 
Disaster recovery 
Sustainability 
Data governance 
Data sovereignty 
If you need to store large amounts of data for extended periods of time, using a On-Premise tape Backup solution has far more advantages compared to Public Cloud Storage.
There is considerable cost savings and more options without incurring unexpected charges.